In the context of complicated daily developments of the Covid-19 epidemic, along with the implementation of social distancing in Ho Chi Minh City for 15 days from July 9, 2021, has had a profound impact on the students throughout the country in general and Ho Chi Minh City Open University's students in particular. Not only did the pandemic severely affect underprivileged students but also students currently stuck in Ho Chi Minh City. The School Board has provided quickly and timely support to help students and their parents overcome difficulties and study with peace of mind.
Specifically, HCMCOU has granted 300 scholarships (value in 3,000,000 VND each) for students with difficult circumstances due to the Covid-19 epidemic. This scholarship is considered in priority order of the most disadvantaged students within the allotted budget. The students are following bachelor degree in formal training programs with difficult circumstances due to the impact of the Covid-19 epidemic; poor and near-poor households certified by the locality this year are considered.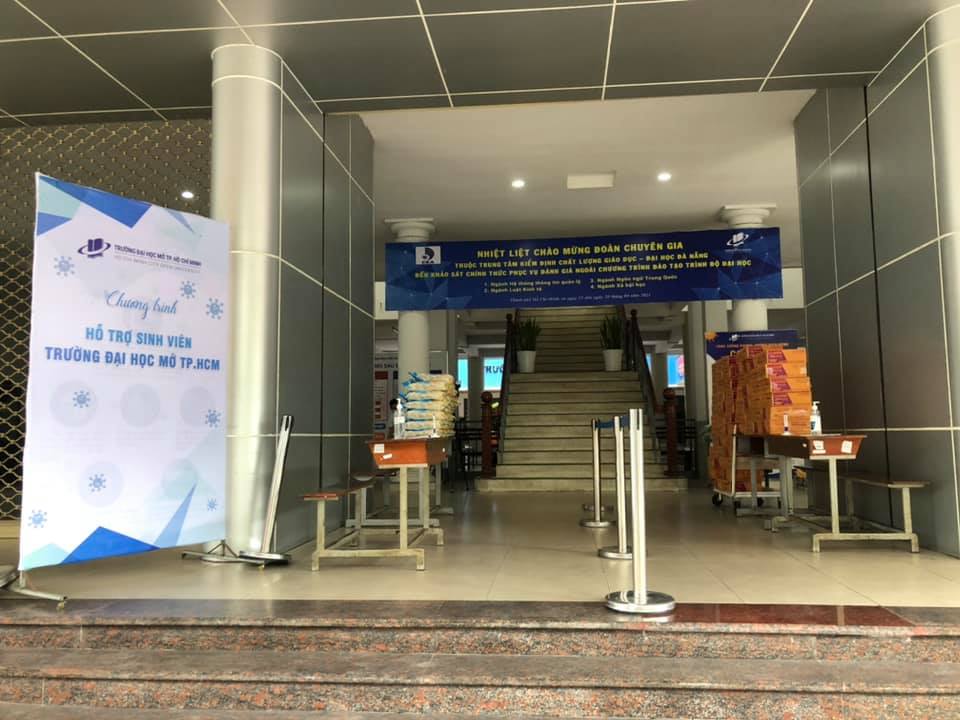 In addition, the University also supported 1,000 packages of 500 boxes of instant noodles and 2.5 tons of rice for students with difficult circumstances and those ran out of food. This support was made after the school sent an email to inquire about student life during the social distancing period from July 9. To ensure safe distance during the pandemic, the students registered via email and were scheduled to come to the nearest campus to receive necessities. For students who are living in isolated areas, the school is planning to deliver the supported gifts to the place.
Sharing about this, the University president - Prof. Dr. Nguyen Minh Ha told that these 1,000 gifts were promptly called and mobilized lecturers and individual outside the school, not including in the University Scholarship Funds. Currently, in the context of an increase number of difficult students, HCMCOU continues to mobilize more funds to support them. HCMCOU sincerely appreciates the cooperation of our companions, businesses, alumni and sponsors, lecturers in accompanying the University to support students to overcome this difficult time.
All contributions should be transferred to:
Account name: Ho Chi Minh City Open University
Account number: 1900201031556 at Agribank - Saigon Central Branch.
Content: Name of individual/organization transferring money to support the Student Support Fund of Ho Chi Minh Open University affected by Covid-19.
For more information, please kindly contact Ms. Huynh Phuong Hy - Officer of Department of Student Affairs via email hy.hp@ou.edu.vn or phone 028 39302146./.